Community Hubs Australia provides a number of opportunities for professional development. These include:
Biennial Community Hubs Australia conference.
Hub Leader Exchange.
Community of Practice (conferences and workshops).
The Community Hubs Australia conference will run every second year. It runs for three days and is a chance for the whole network to come together as a group to connect, share and learn.
Hub leaders can contribute in a variety of ways, but each conference looks different. As planning begins, the network will be notified of opportunities to present or contribute in some other way.
Community Hubs Australia covers the cost of flights and accommodation to the host city for all attendees. These are organised by a CHA representative and your travel and accommodation details will be sent to you prior to the conference.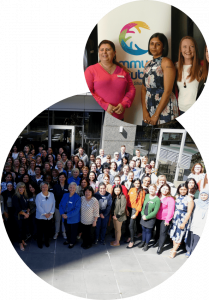 'Call for presenters' template
Application for hub leaders to present successes,
achievements or challenges at the conference.
'Call for abstracts' template
Submit a summary of your presentation
for the conference.
The Hub Leader Exchange is available in the years that the conference does not run.
Hub leaders spend a full day at another hub, learning from that hub's leader and school community.
The hub leader can choose to travel interstate for a day or stay within their own state but visit a different LGA.


Hub leaders who undertake an exchange are expected to:
Host hub leaders are expected to:
We encourage hub leaders to attend conferences, meetings and forums for their professional development.
CHA will cover registration costs to attend events, with hub leaders or schools expected to provide funding for travel and accommodation expenses. Hub leaders attending events on behalf of CHA will be expected to provide reflections and share presentations and key learnings with the national network via the closed hub leader Facebook page, Galaxy Ebulletin and CHA social media channels.
Funding for these types of professional development opportunities will be granted on a case-by-case basis. Hub leaders will need to apply to the Program Manager by email to request funding.