Volunteers are among the most valuable resources your hub leaders can have. 
Your school will have defined procedures for your hub leaders to source and engage volunteers. Establish what your school's procedures are and communicate them to your hub leader. Volunteers can include: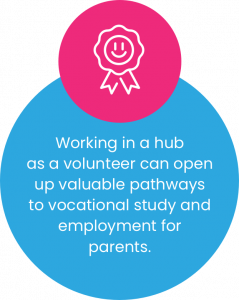 Benefits of providing opportunities for volunteers ​
Benefits to volunteers include:
Benefits to hub leaders include:
Getting parents involved in the school

Dandenong West Primary School Hub shares its story
Dandenong West Primary School Hub supported three newly arrived mums to attend a women in leadership course at the local neighbourhood house.
The course gave the women the confidence to volunteer at the school and all three have since joined the school committee. They come to the committee meetings well prepared with lots of questions and ideas. They also contribute different perspectives, including what their children are experiencing in school.
Hub leader Vikki says the three women have become the "go-to people at the school" and an integral part of the hub team.

HIPPY parenting program – Dandenong Primary School Hub
A child who attended a hub not long after arriving in Australia was identified as having insecure attachment (a bond that is underscored by fear). The hub provided support to the mother, building her capacity through a referral to the HIPPY parenting program.
The mother and child also engaged in the school's playgroup and the Step into Kinder program. The mother went on to volunteer in the school and, while doing this, completed studies in children's services and now works as a HIPPY tutor herself. The child is flourishing at school and the mother now sees the other participants of our community hub as her own family.