Hubs provide employment pathways for people. Many women who access hubs hope to join the workforce eventually, along with wanting to give back to their community. 
Hubs provide:
Facilitating this is an important part of your role. Speak to hub participants about their aspirations and consider how the hub can support them.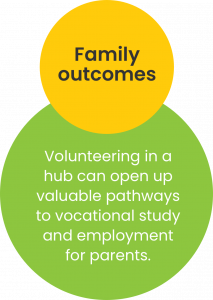 HIPPY parenting program – Dandenong Primary School Hub
A child who attended a hub not long after arriving in Australia was identified as having insecure attachment (a bond that is underscored by fear). The hub provided support to the mother, building her capacity through a referral to the HIPPY parenting program.
The HIPPY program is a two-year, home-based initiative that focuses on early learning and parenting skills for families with young children.
The mother and child also engaged in the school's playgroup and the Step into Kinder program. The mother went on to volunteer in the school and, while doing this, completed studies in children's services and now works as a HIPPY tutor herself. The child is flourishing at school and the mother now sees the other participants of our community hub as her own family. As a result of the community hub, families feel safe, welcomed and connected. Often, they experience the aspiration to give back to the community that has provided so much for them.
Find out more about the HIPPY program
Benefits of providing opportunities for volunteers ​
Benefits to volunteers include:
Benefits to hub leaders include: