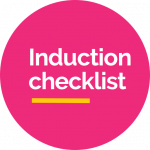 School principals are the lead relationship for the school.
They must be a supportive advocate for their hub leader and hub community. They need to understand the role of the hub leader and what a hub is, how it impacts on the community and what benefits the school and community will see. Some key things you should do in the first weeks of engaging with a new hub or hub leader:
Introduce the hub leader to the leadership group and explain the impact that a hub will have on children's learning outcomes and how the hub will contribute to the school's strategic plan. The principal and the hub leader will share the aims of the community hub with the leadership group.




Invite the hub leader to school-related training, including HR and budgeting systems.




Show the hub leader the space designated for the hub. Discuss a shared vision for how this will be set up and any budget that is available.

Show the hub leader their work space (computer and phone) and have it set up with email and access to print/scan ahead of their first day. 

Ensure they have access to relevant school files, CHA documents and the website.

Help them complete their contract and explain payroll, leave and other staffing-related matters.

Provide a list of main contacts within the school.

Explain the funding available for the hub, the process for accessing program-related funds and the reimbursement process.

Provide an orientation to the school, introducing the hub leader to school staff and the welfare team.

Share information about parent committees, how they work and when they meet. Provide an introduction to the committee/s.

Invite the hub leader to staff meetings to speak about what the hub is and what it will be doing.

Provide information to the hub leader on how to access translating services. If the school does not have free access, you can contact CHA.

Discuss what existing work is being done with families, what has worked and any challenges e.g. any transition programs.

Consider how to include the hub leader and hub programs in the school's strategic plan.

Allocate the hub leader a buddy from the staff or leadership team so they have someone to check in with to familiarise themselves with the school when they start.

Arrange a regular catch-up with the hub leader to discuss priorities, chat about how the hub is progressing and to work through any challenges.

Explain the IT system, as well as where and how to save work-related files.
Meeting with hub leaders
School leadership should meet with their hub leader at least quarterly to reflect on hub operations, key achievements and challenges and to consider priorities for the following term.


Things to cover in your meetings:
Key school leadership roles and responsibilities
Plan and launch
activities
that align with the NCHP
outcomes and objectives
Engage and work




together
collaboratively with families, the community and school staff
Plan
and
report
on the quality framework process with hub leaders and CHA
Share impact

stories
with Community Hubs Australia and the support agency