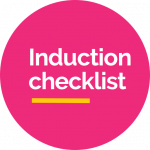 As a support coordinator and agency, you play a vital role in the running of a successful hub.
You provide a coordination, liaison and support function across all community hubs within a local area, and provide guidance, mentoring and training for hub leaders. Some key things you should do in the first weeks of engaging with a new hub or hub leader include:
Provide an overview of the National Community Hubs program model, including the national focus and the various roles of the team.

Introduce the hub leader to the program outcomes framework and philosophy statement.




Review the position description with the hub leader, along with the role and responsibility documents for both the school and the support agency, providing examples of how different hubs operate.

Introduce hub leaders to one another at a local hub leader meeting and encourage them to share contact details. Provide a schedule of hub leader meetings for the remainder of the term/year.
Provide an overview of the professional development that will be available and how this can be accessed. together with the hub leader, assess what knowledge and skills may be beneficial for them to learn.
Provide an overview of existing networks and partnerships and discuss strategies to make broader connections.
Introduce the new hub leader to the national team.
Introduce the hub leader to other relevant team members at the support agency. 

Provide a list of key contacts and links to networks.

Explain reporting requirements and demonstrate how Hub Central is used for timetabling and data entry, as well as the importance of collecting and sharing stories.

Provide an introduction to the communityhubs.org.au website and our social media.

If applicable, provide some background about the hub's history and development.

Arrange a visit to other hubs in the LGA with the new hub leader.



Other ways to support hub leaders throughout their journey
Keeping in contact with regular meetings
Regular one-on-one meetings with hub leaders at the start are important as you support them to develop in their role. It is also important to set up regular meeting times for all hub leaders to come together to share and learn from one another.
Helping them with reporting and creating an Annual Plan
This is an important reflection on how hub programs are going, and hub leaders may need support from you in understanding how to access and use the Portal and completing Rapid Reviews, especially for those who are just starting.
Being a relationship builder and facilitator
Leverage your local knowledge and networks to support hubs in learning about and accessing local agencies and services that can be delivered through the hub to help families and their communities.
Key roles and responsibilities